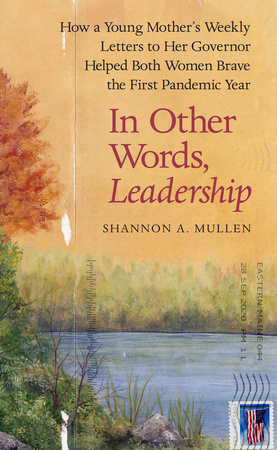 Happy book birthday to IN OTHER WORDS, LEADERSHIP: How a Young Mother's Weekly Letters to Her Governor Helped Both Women Brave the First Pandemic Year by Shannon Mullen.
This incredible book has already garnered so much praise you will definitely want to check out the author's website and attend one of her events if you can.
Don't miss this feature from The Portland Press Herald either!
"Mullen's well-researched … enjoyable book is shining some well deserved light on the low-key governor whose level-headed leadership helped guide Maine out of the woods."
— Scot Lehigh in The Boston Globe
"Mullen's earnest approach will keep readers engaged. Readers will find both governor and homesteader sturdy pandemic companions."
—Kirkus Reviews
"The book gives a fascinating glimpse into Mills' personal life and perspective as governor during the pandemic."
–The Daily Bulldog
"This is a remarkable book. The story of how Maine governor Janet Mills and constituent Ashirah Knapp, a homesteader with young children, supported each other from a distance through the storms of the coronavirus pandemic, it is far more than just a record of those unsettled years. It captures both history and humanity as it tells the life stories of the two women who faced an unprecedented crisis and how they set a course through it. It is a story of work, worry, art, faith, community, life, and hope. An instant classic."
–Heather Cox Richardson, author of How the South Won the Civil War
"A heartfelt and moving story . . . Just as important, it's also a well-timed lesson in civics."
–Richard Russo, author of Empire Falls
"This delightful book tells the compelling, intertwined stories of Governor Janet Mills and a young idealistic Mainer trying to do the right thing — one for her state and the other for her family — during a most difficult time, and it is a dramatic reminder that politicians need to do more than win elections and score points for their team; they need to lead."
–Howard Dean, former governor of Vermont